By ZENIT Staff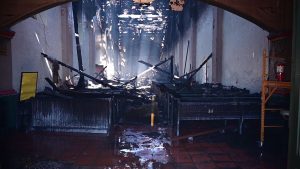 An early morning fire on July 11, 2020, broke out at the San Gabriel Mission Saturday, completely destroying the 249-year-old church's roof, reported Angelus News.
The fire was reported around 4:30 a.m. and appears to have broken out in the rear of the church. Multiple fire departments responded and the fire was extinguished soon after.
Fire officials were assessing the extent of the damage Saturday morning. They have not said what may have caused the fire.
Pictures from inside the church, which is designated as a California Historical Landmark, showed charred planks from the collapsed roof that had fallen on the pews.
The inside of the San Gabriel Mission church after an early morning fire destroyed the 249-year-old church's roof Saturday, July 11. (John McCoy/Angelus News)
The old church is currently being renovated in preparation for the 250th anniversary of the mission's founding next year. Because of those renovations, the church's historic paintings and artifacts were not in the church at the time of the fire, said Adrian Marquez Alarcon, spokeswoman for the Archdiocese of Los Angeles.
Alarcon noted that the church's pews and walls had just undergone restoration work as part of the renovations.
Mission San Gabriel Arcángel was founded in 1771 by Franciscan missionary Fray Junipero Serra, the fourth mission in present-day California founded by the future saint.
Los Angeles Archbishop José H. Gomez visited the mission around 10:00 a.m. Saturday morning to survey the damage and ask for prayers.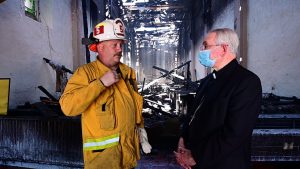 Archbishop José H. Gomez speaks to San Gabriel fire chief Steve Wallace while surveying fire damage at San Gabriel Mission July 11. (John McCoy/Angelus News)
"Woke up before dawn this morning to news that our beloved San Gabriel Mission, founded by St. Junípero Serra in 1771, was burning," said the archbishop Saturday morning on Facebook.
"Thank God no one is hurt. I'm here to pray with the people. The roof is destroyed and there is much damage in the old church. St. Junípero, pray for this city, this state, and this country that you helped to found."
The post Historic California Mission Church Heavily Damaged in Fire appeared first on ZENIT – English.
Read More: Vatican News